Microfiber Sheets Review from Nestl Bedding Company
I'm the type of person who likes to sleep in a semi cold room, and even though I hate crawling into icy cold sheets, I do like finding the cold spots when repositioning during the night – I'll explain in more detail later. I got the chance to try these microfiber sheets from Nestl Bedding at a deeply discounted price, so
I decided to try them out since I've only ever slept on regular cotton sheets. Seeing as sheets can be quite expensive I thought this would be a good deal.
I have no pictures of the packaging, because I was so anxious to get them on the bed. However, they come in a basic plastic zipper pouch with the pillow cases towards one side, and the fitted sheet folded up and wrapped in the flat sheet. All together this is a 4 piece queen size set.
I admit I was hesitant to try them because they are white sheets. I really can't remember any time in my life when I have used white sheets in my home. The only ones I've ever slept on are those found in a hotel, so this was new for me. They looked weird on my bed, but oddly refreshing!
These quality microfiber sheets are sewn from high-quality microfiber fabric that's double brushed to make it super-soft and snuggly. It's also very easy to care for and made to last.
Nestl Bedding Company
If you visit their website, they show the different colors of sheet sets using the colors of birds – cute, but slightly confusing as some have more than one color. However, I think it is an "out-of-the-box" very cool idea.
Time to make up the bed! I pulled the sheets out and they have a nice little trim on the pillow cases, but sadly not on the flat sheet – hmmm. I love seeing the trim on flat sheets when folded back on the bed, but none here. Not a huge issue.
I always, always have problems with fitted sheets – meaning I can never find the top and bottom when I first start to put them on the bed. It happened with this fitted sheet too, and I was almost afraid that they would not fit. I have an iComfort adjustable bed and the mattress is very deep so I was momentarily worried.
I finally found the top and bottom and they fit great with a little extra room, so I tucked them in really good. They are definitely deep fitted. I finished up with the flat sheet and the pillow cases.
Time to jump in between the sheets! I crawled into bed and I was surprised with the softness. They seem slightly on the thin side, but after applying the fitted sheet, I could not see the mattress through the sheet, so that tells me they are not extremely thin. I think it may be the microfiber that makes them feel that way.
The sheets actually slept very well. However, as I started to mention above, I do miss my cold spots when I reposition myself at night due to being too hot. My body temperature fluctuates all night during my slumber, and those cold spots help me cool down. I found myself pulling the covers off and on all during the night in absence of these cold spots. Just be aware that these sheets do not breath like cotton sheets, so if you like a warm bed, these sheets are definitely for you. I can use these in the dead of winter to help save on my heating bill!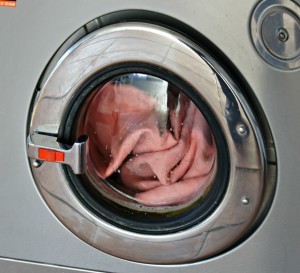 I washed them after a week using cold water and the permanent press cycle on my dryer, and they came out fine without any loss of elasticity or pilling. I can't speak as to the fade factor, because they are white sheets. I'd love to try a colored set to test the fade factor through a couple of wash cycles.
Overall, these microfiber sheets are pretty decent for the price I payed. I would probably pay a little bit more, but I would not order them in white. They do offer other colors as well, but as stated this particular review was for the white sheets only.
I found them to be really soft and comfortable, not slippery or rough. Other than my personal hot/cold issues, I think these sheets are pretty doggone good. They would be great for dorm rooms too, as they are very light weight and easy to wash and handle.
If you are interested in buying a set for yourself you can find them on Amazon. I will leave my affiliate link below for your shopping convenience. Check out Nestl Bedding Company's website, and find them on Facebook too. You can purchase this set in other colors for $19.99 using this coupon code: Z1501OFF (Must be Sold by TheComfortZone and Fulfilled by Amazon).

Related articles across the web
Powered by

Sidelines