Priority Chef Precision Knife Sharpener Review

If you really want to hear about it, I like a sharp knife as much as I love a sharp brain! Admit it – both must remain sharp in order to perform! As for knives in my kitchen, I have no use for the dull variety. When it comes to sharpening my knives, whetstone is neither a convenient nor quick option. Although the sharpening rods so expertly used by professional chefs are a part of my kitchen tool set, they can be a bit of a hassle to use and I don't look much like an expert using one. Thanks to the Priority Chef Precision Knife Sharpener,  I have a new weapon in my kitchen tool arsenal – and it works too! 
Disclosure: I received this product free in exchange for an honest review which is 100% my own honest and unbiased opinion.
I've been on a constant mission to find an easy way to keep a sharp blade on my all important kitchen tool – my knife – and I only work with a very sharp knife, so when I was offered the chance to review the Priority Chef Precision Knife Sharpener, I was not about to pass it up!
Priority Chef Precision Knife Sharpener Review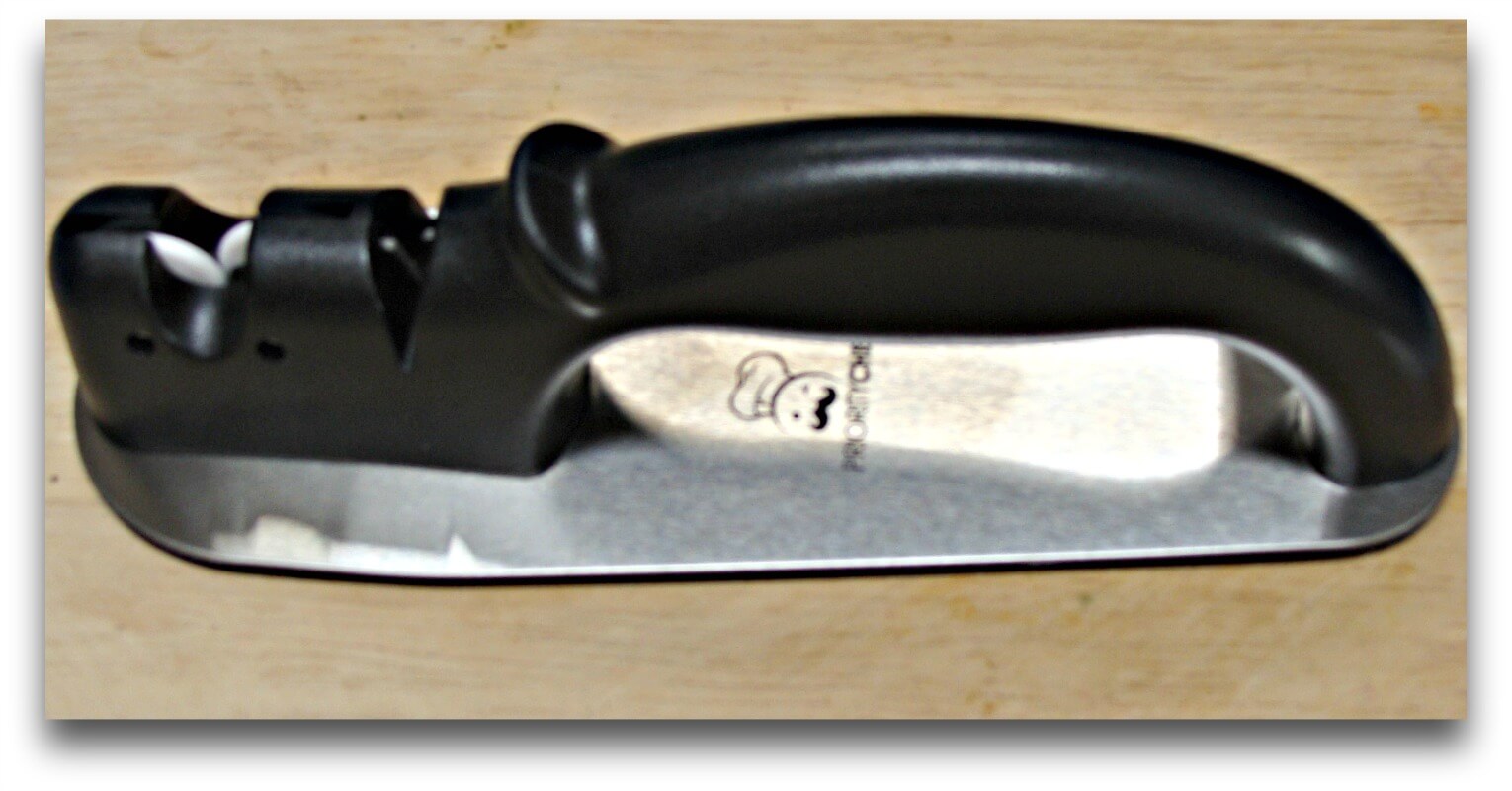 A written review just can not demonstrate the efficiency and ease of use of this sharpener, so I thought a video review would better show you the features, pros and cons of this knife sharpener. Check out the video review below.
Overall, I found the Priority Chef Precision Knife Sharpener very easy to use, and the ergonomic design, non-skid base and compact design makes it a great all around sharpening tool. This sharpener seems to be well thought out. It has a non-skid bottom so it remains in place while sharpening. it also has a very small foot print – come to think of it, the shape is similar to a footprint – maybe a flat foot like my feet 🙂  This sharpener has brought several of my old blunt edge knives back into my cutting crew, and I would highly recommend one for any kitchen.
If you are interested in purchasing one for yourself, or for that special chef in your life, I will leave my affiliate link below for your shopping convenience.
SPECIAL FOR JAXSOLOGY READERS:
Priority Chef has a special offer for my readers –  a $5.00 discount off the original list price. Currently the Priority Chef Precision Knife Sharpener is selling on Amazon for $13.95. At checkout just use the promo code PCSHARP5 and you'll pay only $8.95!  You won't find a better deal. Hey, and if you are an Amazon Prime Member you'll qualify for free shipping! This is an introductory price which will increase to $20.00 in the very near future, so don't miss out on this fantastic deal while supplies last. 
Make sure to check out www.priority-chef.com for more products and information. Visit their Facebook page too!
#prioritychef #Jaxsology
.
Powered by

Sidelines