My FaceList for March 2015 Great Skin Care Products- New to Review and Faves to Savor
I'm back with my Facelist for March 2015 and more great skin care products.  As you may notice, February's Facelist was a no show. This is because I had a bunch of products to review for the month, and I'm still working on my studio project, and life in general was just cray-cray!
Anyway let's get right to it – you know the deal.  Time to share some of the great skin care products I've been using, along with some new products that I will be reviewing later this month.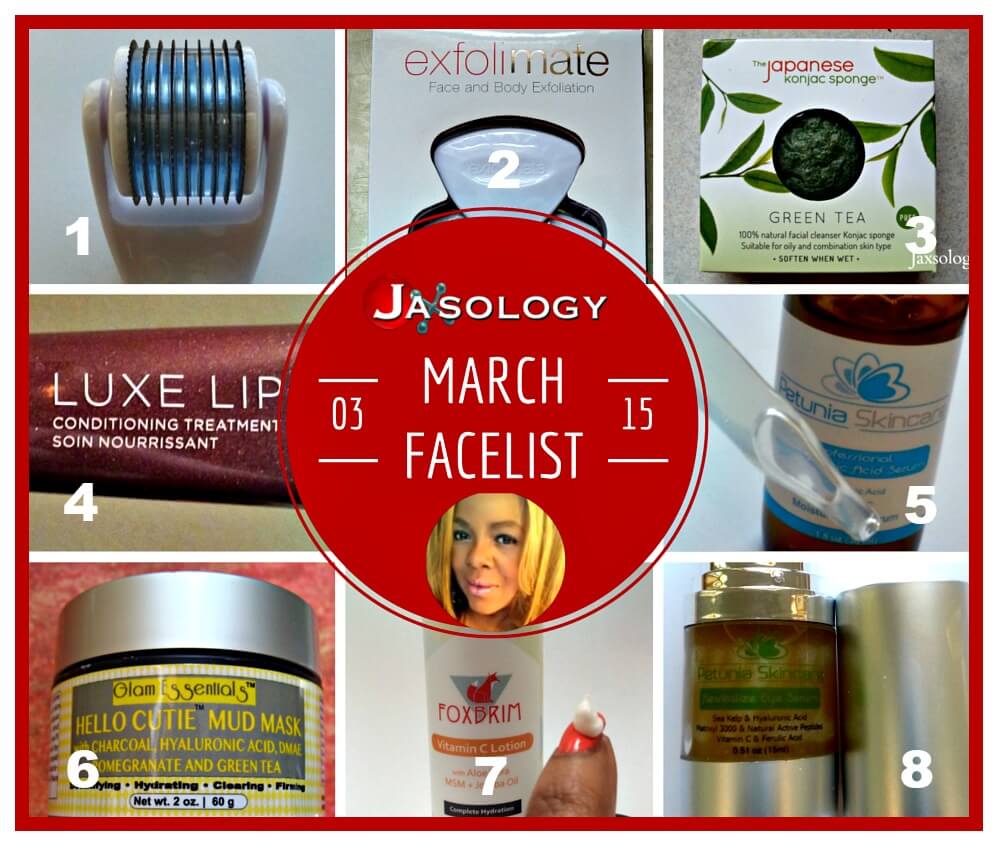 This month's Facelist includes:
1 Petunia Skincare 1.0 Derma Roller – I love using this tool.
2 Exfolimate Tool Set – Great in the shower.
3 Japanese Konjac Facial Sponge – These sponges work great!
4 Luxe Lip Treatment by Julep – Makes my lips baby soft.
5 Petunia Skincare Hyaluronic Acid Serum – One of the good ones.
6 Glam Essentials Hello Cutie Mud Mask – Youtube Review
7 Foxbrim Vitamin C Moisturizer – Review coming soon.
8 Petunia Skincare Eye Serum – Does a good job on dark circles.  
The products that have been reviewed are working great for my skin and will remain a part of my beauty bag.  
Absolute Shout it from the Rooftops Faves:  The Derma roller and the Hello Cutie Mud Mask are the biggest hit this month. I will be posting a How-To video of the mud mask very soon!
If you want to find out more about these products, just click on the active links above to check out the full reviews, or click the affiliate links in the carousel below. 
What skin care products are you currently using in your skin care regimen? Do you have any great skin care products you would like to share?  Just let me know down below! Thanks for sharing.
Powered by

Sidelines