Midori Spring Ceremonial Grade Matcha Green Tea Powder Review

I am officially on the Matcha Green Tea Train and I'm traveling to good health. Life & Food offered me the opportunity to try Midori Spring Ceremonial Grade Matcha Powder, and I accepted, because the more I use it matcha, the more I love it. I want to let you in on the benefits of using this wonder powder and what it can do for you.
I enjoy using Matcha Powder in my culinary escapades, adding it to everything from eggs to smoothies. For those times when I want to drink it as a tea, I opt for ceremonial grades. It's the best quality matcha powder you can buy.
Midori Spring Ceremonial Grade Matcha Green Tea Powder Review
First let me tell you a bit about Midori Spring Matcha Green Tea Ceremonial Grade Powder. It's packed with antioxidants and contains much higher levels of EGCg. Midori Spring is gluten free and GMO free. It contains no soy or wheat, and no pesticides, and is USDA, JAS and OU Kosher Certified.
It comes packed in a food grade tin for easy access and storage. Simply replace the lid after use and refrigerate to maintain freshness. It has a very vibrant green color, and green is the best way for me to describe the smell and taste – sort of reminds me of spinach – earthy, but not overpowering.
This wonder powder helps me in so many ways. Since I started using matcha on a daily basis I have noticed the following: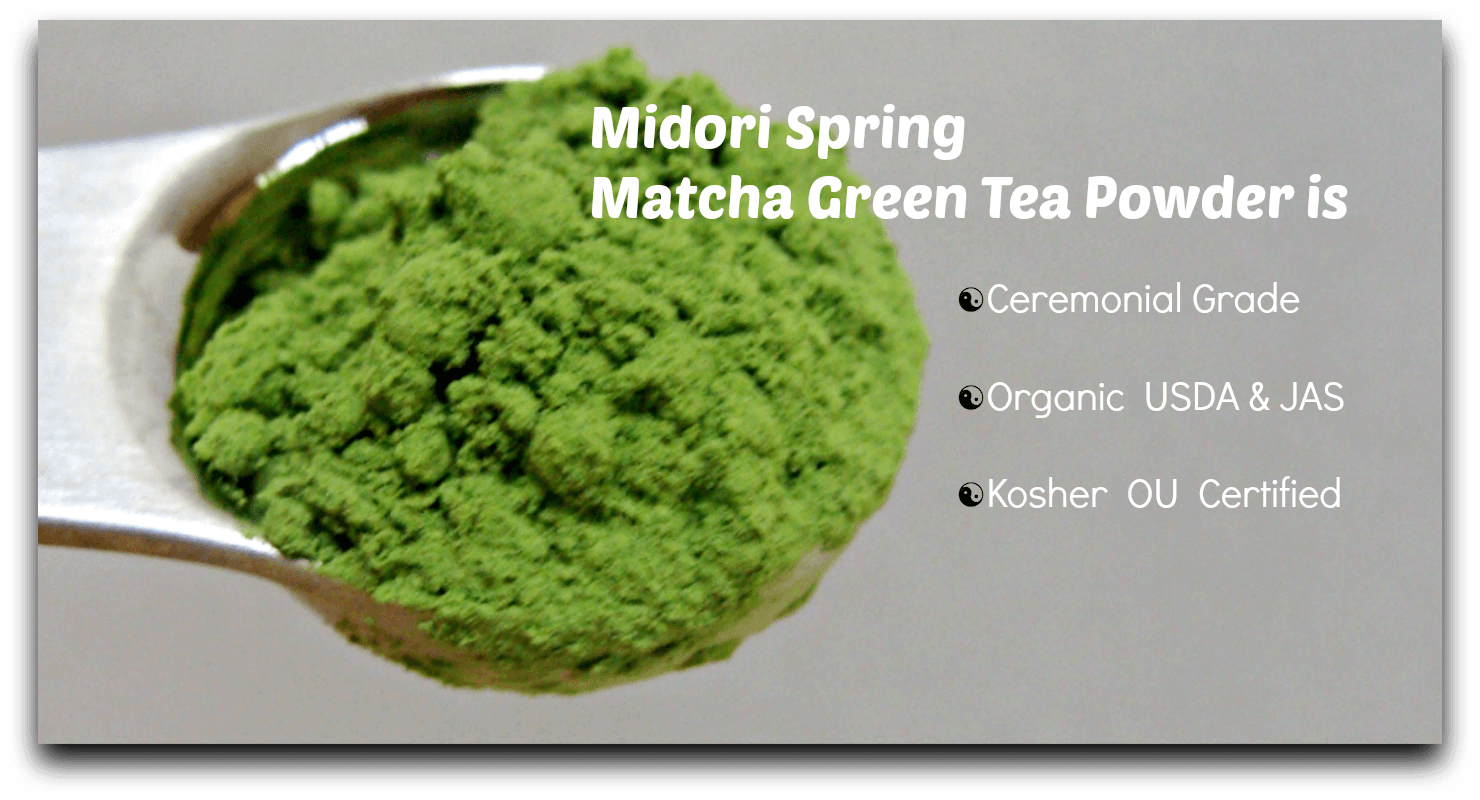 I feel more energized throughout the day. No more highs and lows, peaks and valleys. It's like a slow release medication – steady level of energy that lasts all day long without making me feel jittery or antsy.
Being a multi-tasker at heart, sometimes it can cause a lack of focus. Matcha helps me stay focused and clear headed throughout my day and I find I'm getting even more accomplished – because I have the added benefit of increased energy levels too.
Work dictates that I sit – and when I do so for prolonged periods I get a bit of ankle swelling. Matcha has helped reduce the amount and frequency of the inflammation so I don't suffer this near as often as I did in the not so distant past. I can also attest to the fact that it is helping to lower my slightly elevated blood pressure which is going to keep me off of medication.
And the big one – drum roll please! I have already experienced a small amount of weight loss. Nothing major, but about a pound or two a week for the past month. I believe this is due to the fact that my internal furnace is finally starting to kick in and my metabolism is getting revved up!
So with this lengthy list of benefits, I purchased a ticket and boarded the Matcha train. This train is picking up passengers from coast to coast. Are you getting on board? If you'd like to join me on this trip, I will leave my affiliate link below for your shopping convenience. Don't forget to check out the website for Life & Food at www.lifefoodpro.com. Then take a stop on your trip to LIKE them on Facebook too!
I received one or more of the products mentioned above for free using Tomoson.com. Regardless, I only recommend products or services I use personally and believe will be good for my readers.
How do you maintain good health? Share your best tips and products below – maybe you know something that can be helpful to others. I'd love to hear about it!
Related articles across the web
Powered by

Sidelines