Fine Wine Every Time with the Magic Wine Decanter by Rowpa
I don't drink a lot of wine, but I enjoy a glass every now and then.  Don't ask me about bouquets and aromas, because I am not a connoisseur, but I can taste the difference between a good wine and a not so great one. I wanted to try the Magic Decanter by Rowpa to see if it would really make a difference in the taste of my wine. 

Here is what I know on the subject as a layperson.  Wine needs to breath in order to release the flavor and aroma of the vino.  I also learned that straining wine gets rid of the sulfates that can cause headaches you suffer after partaking, so it seems aerating is very important.
I grabbed a bottle of white wine I had laying around to test the wine decanter.  The box states it is for use with red wine, however, I am not a huge fan of red wine, so I grabbed a bottle of white to test the Magic Decanter. It even says in the included instructions that you can use this with whatever wine you prefer to drink.
The Magic Decanter comes in a nice compact box resplendent with photos of the enclosed decanter. Open the slide away box and inside is the wine decanter, a nicely weighted bottle stopper, foil cutter, small strainer, black velvet carry bag, a rowpa.com VIP card, a foil sticker and of course the Magic Decanter itself.
The test is simple.  I used the foil cutter first, and opened the bottle of wine.  Then, holding the wine decanter over my wine glass, keeping my fingers away from the air holes, I poured through the decanter down the side of the bowl as directed.  Easy right!  I tasted the wine poured with and without the aerator and wow could I taste the difference.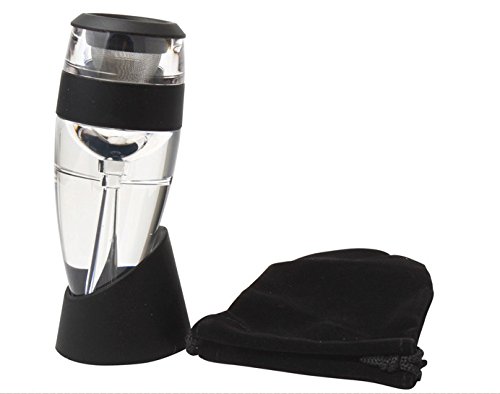 The glass poured with the wine decanter was more flavorful and tasty to my tongue.  The wine poured without the aerator was flat tasting and pretty much flavorless when compared.
The Magic Decanter is very stylish – I believe it is crafted from acrylic.  The inside of the decanter looks like a little wine glass which is completely appropriate and cute I might add.  It looks like you are pouring wine into a little glass.  The handy stand can be used after pouring a glass of wine to prevent dripping. 
I love that this wine decanter is portable with the black velvet pouch. Take it with you to restaurants, dinner parties or wherever you may enjoy a glass of wine.  You will be the talk of the town when you are sporting the Magic Decanter around.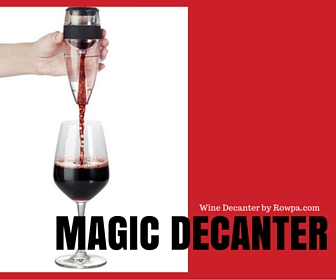 I don't claim to be a drinker of a lot of wine, but I will never drink another glass of un-aerated wine ever again. The Magic Decanter definitely makes enjoying a glass of wine much more pleasurable.
Check out my video review too!
With the holidays fast closing in, this decanter would make a great gift for the wine connoisseur in your life.  This is a must have for any one who enjoys the flavor of wine.  It is seriously easy and quick to use and so very worth the price for enhancing any bottle of wine. The included foil cutter works great too!
If you would like to purchase one you can check out my affiliate link below (and I appreciate you if you order through the link!)  You can also check out their website at rowpa.com and join the VIP club to get:
Special VIP welcome coupon!
New Product Giveaways!             
Regular Discounts & Specials!      
30% OFF your Next Purchase!
The Magic Decanter retails for $49.99, but as of this post (Oct 2015) they are running a special, not to mention if you join the VIP club you can get discounts. So what are you waiting for!  Cheers!
What is your favorite wine to drink?  Do you always use an aerator?  Please share your thoughts below in the comments, as I would love to hear about your experiences.
Related articles across the web
Powered by

Sidelines