Cast Iron Cleaner by Crucible Cookware Review
I do a lot of cooking – I even cook live on Periscope, and I have about 3-4 cast iron skillets, because nothing beats the flavor that cast iron imparts into my food. Keeping them clean and rust free is absolutely important and the Cast Iron Cleaner by Crucible Cookware gets the job done and
I've used several methods to clean my cast iron skillets, including steel wool pads, kosher salt and stainless steel grill brushes. Both the steel wool and grill brushes clean the pans well, but can scratch away at the "seasoning" and can also cause rust which is a no-no when it comes to cast iron. The kosher salt works, but most times it leaves salt stains on the pans which drives me crazy.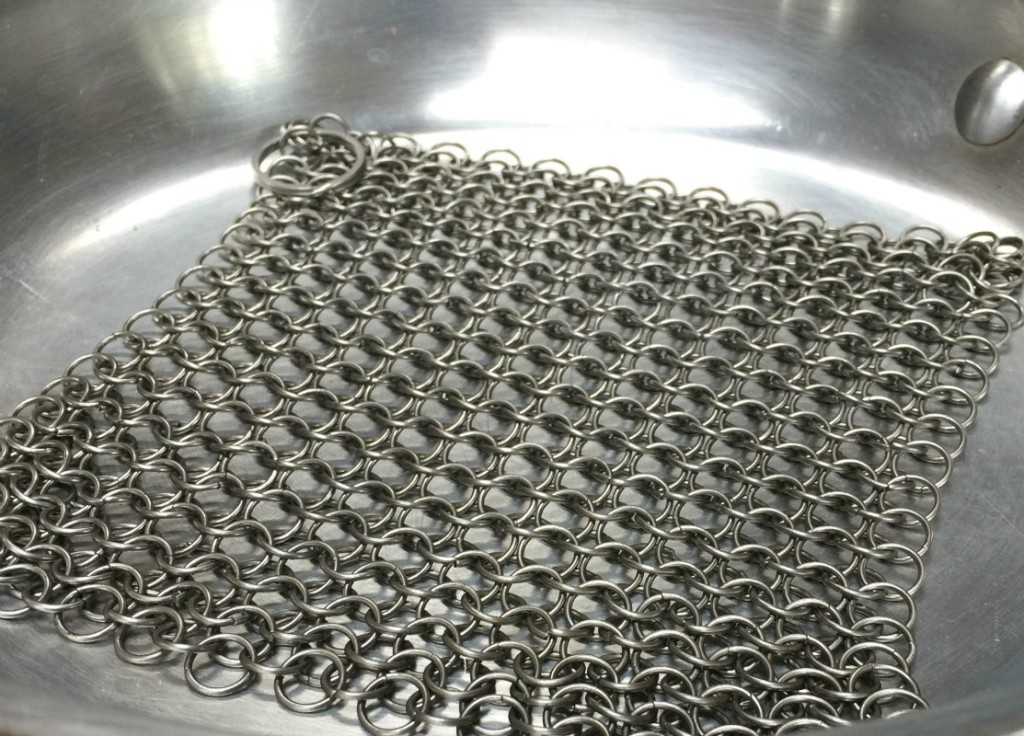 I had never heard of such a cleaner like the Cast Iron Cleaner. Being a jewelry artist, I knew immediately when I unwrapped the package that I was holding a very well made chainmail in my hand. Chainmail is used in jewelry making and was also used in the past for armor. I can say I was surprised and wondered how this mesh of interlocking rings would clean my cast iron cookware.
Well, clean it did, and so easy too. I tried it on my little cast iron grill pan which is a beast to clean due to all of the little nooks and crannies. I ran a little bit of warm water in the pan and commenced to cleaning with the scrubber. A quick rinse and my grill pan was remarkably clean – quicker than I have ever cleaned it in the past. Just check out the short video below to see it in action!
I really enjoy using the Cast Iron Cleaner because it really works.  It's easy to use, and easy to store.  If you are interested in getting a Cast Iron Cleaner for yourself or for the chief dishwasher in your life, I will leave my affiliate link below for your convenience. Check out Crucible Cookware on Facebook. 
#CrucibleCookwareCastIronCleaner
Powered by

Sidelines