Azure Naturals Ocean Minerals Skincare Review & Giveaway: ENDED 09/01/15
Giveaway – ENDED 09/01/15
I am so very excited to have the chance to try out four new products from Azure Naturals. It's their new line of Ocean Minerals for the skin. I'm using the cleanser, toner, mask and moisturizer as a complete skin care system and the results are glowing.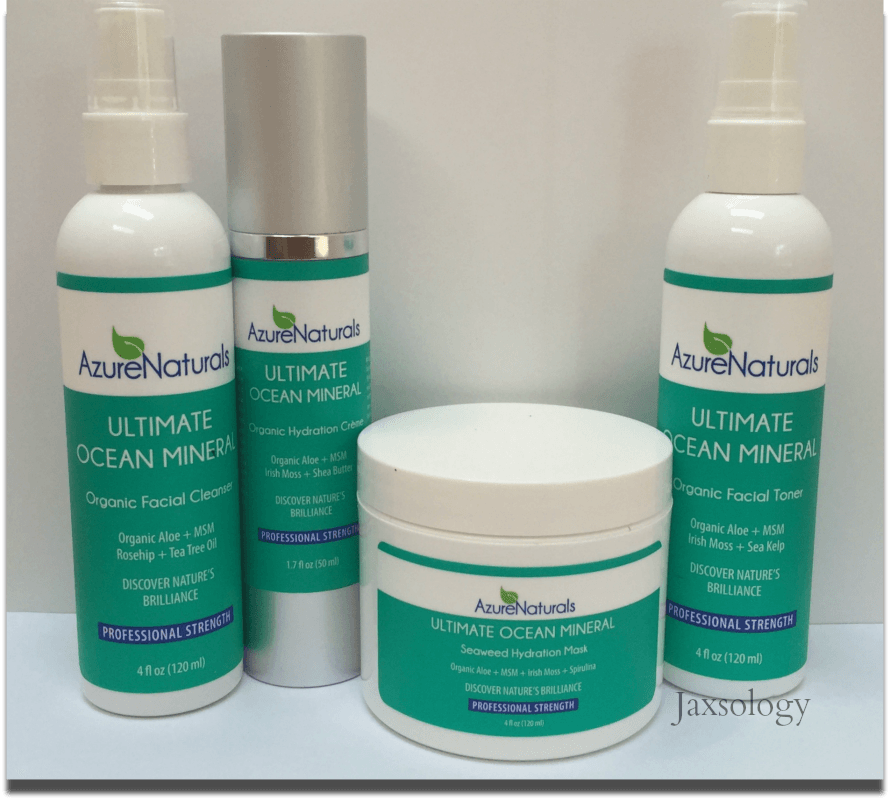 The Azure Naturals Ocean Mineral line is doing a fantastic job on my skin! Powerful oceanic minerals, micro minerals, anti-aging vitamins and vital nutrients help repair, rejuvenate and deeply nourish your skin. All four products form a spa-like quality line of restorative and healing ocean mineral skin care products.
Starting with the cleanser, a little goes a long way. It does not lather up too much, but it does a great job at cleansing and making my skin feel soft and supple.
The hydration mask is truly amazing. I apply it with a brush and it is so cooling to my skin. If I am suffering any breakouts, I can feel the mask tinging in those specific areas, which lets me know it's drawing out those toxins and getting my skin back to normal. It is white in color, and although it dries, it does not dry as stiff as most clay masks, which makes it even easy to wash off. The jar is a very generous size too!

Next up is the toner which is amazing! It has a slight scent of rose, which I love in my beauty and bath products, and it makes my face feel so cool and refreshed after cleansing. This s a mist on moisturizer which I really like. The only thing I don't like about it is the sprayer itself. It could be a bit more of a mist as opposed to a spray. I have to hold the bottle further back than with other spray-on toners, but its well worth it.
Last but not least I complete my regimen using the moisturizing cream. Its light enough for easy application, yet provides great coverage. This cream is very moisturizing and hydrates my skin nicely. It comes in an air-tight pump style container just like the cleanser.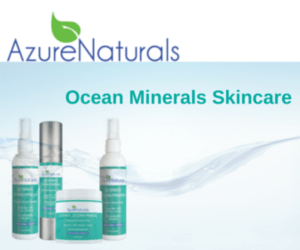 Azure Naturals Ocean Mineral Skin Care products are now my new faves! My skin looks and feels great, and each item is very reasonably priced. Thanks to Azure Naturals, I am able to offer a giveaway to one lucky reader who will win all four of these wonderful products. Just scroll to the bottom of the page and enter to win! It's that simple.
However, if you just can't wait and you'd like to order your Azure Naturals Ocean Minerals Skincare products today, I will leave my affiliate link below for your shopping convenience. Rest assured that Azure Naturals will keep your skin looking good! Check out their website for other great skincare products at Azurenaturals.com
Get Social with Azure Naturals on
Facebook, Twitter, Pinterest, Instagram, Google+


Giveaway – Ended 9/1/15
Enter for your chance to win all four of these products from Azure Naturals.  Follow the directions below to enter – use as many or as few options as you like, but the more you enter the better your chance to win!
Powered by

Sidelines