Arkon: The Mobile Car Mount Specialists – A Storied Review
Arkon Mobile Car Mounts & Tripods 
If you are looking for a great mount for your phone, tablet, GPS or camera, Arkon – The Mobile Car Mount Specialists probably has the right one for any situation. Ranging from car & motorcycle mounts, tripods, stands, mobile phone holders, and accessories, Arkon offers high quality products that are affordable and most important, functional.
I have spent the last year and a half as a blogger and about ten months live broadcasting on Periscope (scoping). I love doing product reviews, because I value consumer reviews when I am making purchases.
This particular post is part review and part story, because of the way I came about receiving products from Arkon. If you wish to skip straight to the review just click here.
I scope almost daily, and I watch a lot of other scopers as well. I met Aaron of Arkon Mounts in some of these scopes, and then had the pleasure of watching him as well. During this time I noticed Aaron to be very engaging with others in the Periscope community, whether he was scoping or watching, all the while introducing us to Arkon and all of their products.
Another thing I noticed, Aaron was not about the hard sell. He simply took the time to show his viewers his products, which he was not afraid to stand behind, demonstrating their different features and uses. He also made it possible for other scopers to host giveaways and offered discount codes and free shipping to anyone wanting to make a purchase. I believe he struck the Periscope community as genuine and giving and for that I was appreciative.
One particular day I was sitting outside of the doctor's office and decided to do a quick scope. I was having my usual fun with my friends when Aaron popped into my scope. He would drop by to see if I was singing and to get a laugh or two.  Once again, he was very sociable with everyone in my scope – we even tossed around a few mount ideas! During my scope I kept apologizing for moving my phone around so much as I was holding it in my hand. Aaron asked me if I was using a mount in my car, and I sheepishly said "No." He then typed in the comments "well I am going to hook you up big time!" I'm going to send you a car mount for your phone!" Needless to say I was stunned for a minute, but I shook it off and thanked him very much for the kind gesture. However, he wasn't finished. He then said "I am also going to send you an iPad stand. I am going to hook you up big time!." Although shocked to my core, I graciously thanked him, not thinking too much about it.  I've always been the type to wait until things happen before I get too excited – makes the let down much easier 🙂
Now, I've had companies approach me to do product reviews, but always for their benefit. Don't get me wrong, the practice is fine, but for a company to just offer me a product based on who I am and what I try to do on Periscope was a first.
I was so grateful for the fact that Aaron would do this, but what he said next meant more to me than any tangible item he could have given me. "Jaxs I love your laugh and your voice" (I'm a singer too). You make me laugh, so I want to do something nice for you." #humbled!
Needless to say I was touched and happy that my broadcasts would have an effect on anyone in such a manner. At the time of that broadcast, Aaron had no idea I was a blogger, and so I knew he was not doing this for anything in return. I did, however, tell him that I would do a review in return for his kindness. Here now is the full review of all of the Arkon products I was so very fortunate to receive.
iPad Tablet Stand – IPM-TAB1
This by far is my absolute favorite of the three mounts I received. This iPad Tablet Stand is so portable and it works extremely well. It features non-skid pads on the "feet" and the "back" which are cushioned and protect your iPad and/or tablet while in use. The feet have slots that hold the device securely in place, and I never feel like my iPad is going to fall out of the mount.
I can go from portrait to landscape without needing to adjust the stand. It fits any tablet with a 7 to 12 inch screen. I use a leather folding type case on my ipad which is pretty bulky, but if you use a slim style case, you can use this mount with the case in place. Truth be told, I have even used this to prop up my iPhone 6+ while using FaceTime or Skyping too.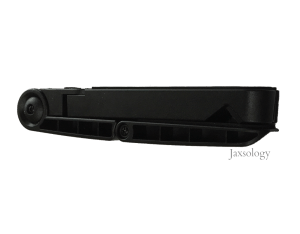 It's absolutely great for scoping, but I also use it for cooking (following recipes), taking selfies, video calling, and I even use it at night when charging so that I can see my alarm clock in the morning. It is so versatile and very easy to carry around. I love that I can adjust the mount to see my iPad from many different angles. I can also prop it up for easy typing too. This mount is an absolute must for any tablet user. At $14.95, it is a great bargain, and it works great. The portability alone is worth the price.
Check out the Arkon video below to see how it works (1:11)

RoadVise Car Mount Sticky Suction- RV-179
Aaron was concerned that I did not have a proper mount for my car, and this is the one that prompted him to send me one. This mount is superior in quality and lives up to the sticky – this is sticky sticky sticky…..did I say it's sticky?
It is relatively light weight and stands about 6 inches tall. It can hold devices up to 4 inches wide, so it fits my iPhone 6+ with a case, which is a plus. Nothing worse than having to remove a case to use a mount. The holder itself is spring loaded so it is easy to insert and remove your device.
It is smartly designed for two hand use when installing the device, which keeps it safe from falling out when adjusting the angle of the arm or the holder with one hand. Cushioning is located inside of the holder to protect the sides of the devices as well.
The holder snaps onto a ball mount pedestal and tightens using the locknut. This keeps the holder itself nice and secure. I have used this in my car, and it has yet to fall off due to bumpy roads, cold windshields, or adjusting the pedestal or holder angle.
Unlike suction mounts that work best on windows, this one will work almost ANYWHERE! This mount retails for $44.95, and again I think it is well worth the price. Quality and construction tell me that this will last a long time.
11″ Tripod Mount – Flexible
This tripod has really come in handy. I use this when I want to get a shot from a weird angle, but I don't have a flat surface to work with. I do a little cooking segment on Periscope and I use this tripod by wrapping it around my microwave or cabinet handle to get over head shots. I can bend and flex the legs to get the exact positioning I need.
I also use it to run my game night on Periscope, and as a general handheld "monopod" when I am broadcasting or dubsmashing :). It works just like any other "gorilla" style tripod, but the holder is the key. When you first look at the holder, you may wonder "how will my device fit in that small opening?'
This holder is also of the spring loaded type (one-side only) with rubber tips that protect the device. The spring load action is so smooth and easy to open. My phone pops in and out without too much effort, but it is held securely in place during use. It even sports a bubble level so you can make sure your shot is straight and level. I've mostly seen this feature on high-end, high-priced professional tripods.  
I absolutely love the holder design and this is for sure another quality product from Arkon that is great for still video shooting, pictures, broadcasting and more.
All three of these Arkon products have proven invaluable in my video recording and broadcasting pursuits. Every little detail has been carefully thought out and executed, keeping functionality, device security, and quality at the forefront.
I am so thankful to Aaron who saw something in me that urged him to be so giving and generous. I have used several different competitor brands without much success, but each and every mount Aaron sent me has been in use since the day the box arrived.
If you would like to see the live unboxing I did on Periscope you can watch it below.
If you are in need of a quality mount, Arkon is definitely at the top of my list.  Great customer service, knowledgeable and caring people, along with quality products – how can you go wrong.  I also received a free carry bag too!  I am thoroughly impressed with Arkon!!
I have to add that although I did receive these items free of charge, it was never in exchange for a written review.  It was given to me on good faith, but in turn I felt it necessary to return the favor in kind.  I've learned that on Periscope, each one can reach one, which is exactly what happened in this case.  Make sure to check out Arkon.com for more amazing products as well as the ones reviewed here.  I will put the direct links below for your shopping convenience.  I receive nothing in return for any purchase made due to this review.  I can genuinely say the Arkon is the Mobile Mounting Specialist!
RoadVise Car Mount Sticky Suction Mount
Follow me on Periscope @Jaxsology for daily scopes, singing, tutorials, games, and an all around fun time!
Powered by

Sidelines