A Game of Stones: Whiskey Ice Cubes Combo Set Review
A Game of Stones
Homeco Dry-Ice Whiskey Ice Cubes Combo Set
I don't know about you, but every now and then I love a shot of whiskey. I favor drinking it neat – that's straight with no ice, because I am not a fan of watering down my pricey whiskey. However, I bet the flavor would probably be much better if it were slightly chilled with some whiskey ice cubes.
Since finding out about the Dry-Ice Whiskey Cube Combo Set by HomEco, I have changed the way I enjoy a glass of whiskey. 

This is the cutest set of ice cubes I have had the pleasure of using. The HomEco Dry-Ice Whiskey Ice Cube Combo Set comes in a box, inside of which you will find a handy little plastic "ice cube" container and a set of handy tongs.
Complete with four stainless steel cubes and four soapstone whiskey ice cubes, you get to try both without needing to purchase two different sets. Don't be confused – they do not contain dry ice.  It's the thought that the cubes are not made of water (they're dry) and therefore will not dilute your drink.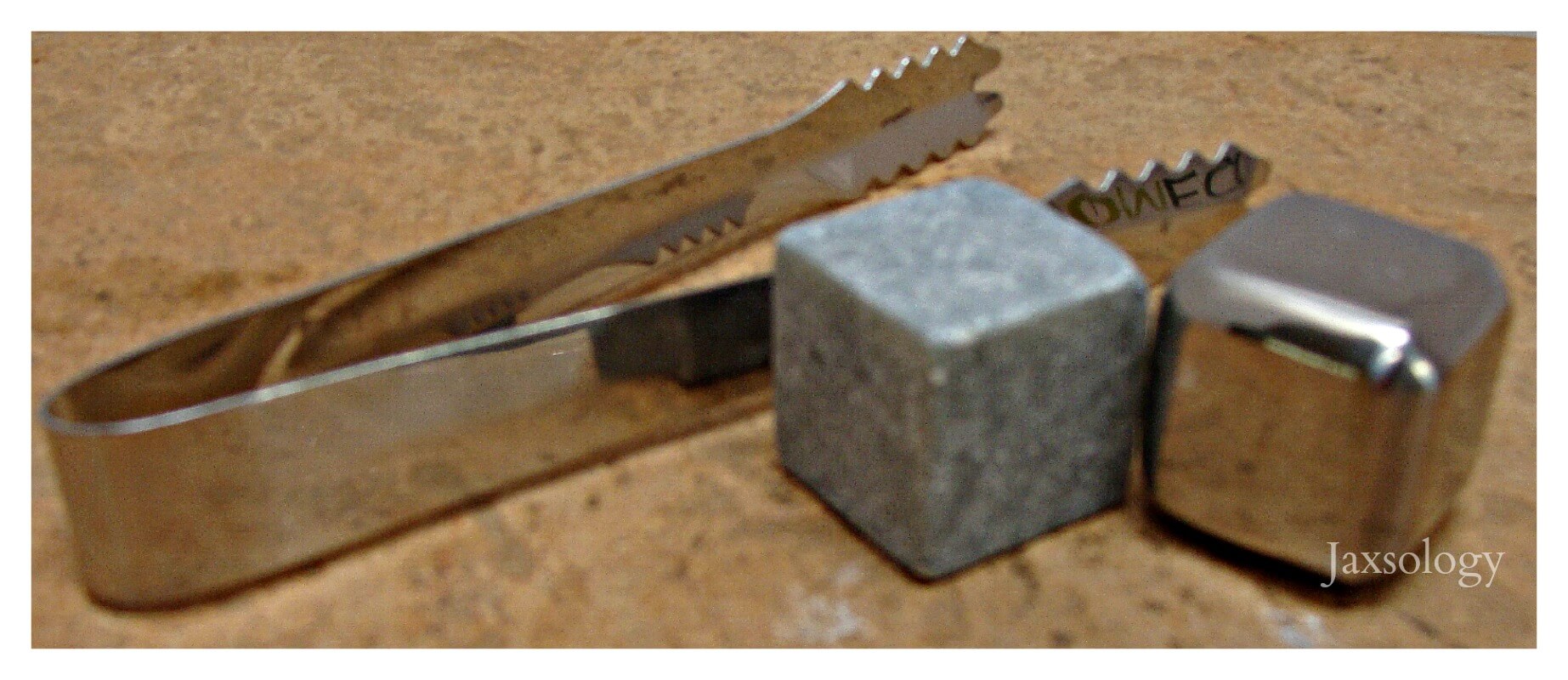 Simply rinse all of the cubes before your first use and place them in the freezer in the handy cube tray. It takes about four hours for them to "freeze".
Now, grab your favorite bottle of whiskey – or any drink at all. Add a couple of the dry-ice cubes using the included tongs and pour to the top of the stones. Let it sit for about a minute and then slowly swirl your glass to cool your drink. Easy!
After using this set of whiskey ice cubes in my drink, I find that the stainless steel cubes work the best and seem to stay colder the longest. The soapstone cubes do a decent job, and they do look pretty cool floating around in my drink – a great conversation starter, however, I do prefer the steel cubes overall.
When I'm done, I simply rinse the cubes and let them air dry, then return them to the handy tray. I keep the cubes in the freezer so that they are ready for use at any time. The tray also makes it easy to keep all of the stones together and store them away when they're not in use. 
I really like this set of whiskey ice cubes by HomEco, because it offers the chance to try both the stainless steel and soapstone cubes for the price of one set. Their easy to use and easy to store, and you will be sure to impress your friends with these fun cubes!
If you are interested in finally having a cool glass of pure and undiluted whiskey, I will leave my affiliate link below for your shopping convenience. Make sure you check out their website at http://hom-eco.co/. Be sure to check out HomEco on Facebook, Twitter and Instagram too. 
You can check out my quick video review below
Click the link below to get your set of Whiskey Ice Cubes by HomEco
Related articles across the web
Powered by

Sidelines