3 Reasons to Use a Japanese Konjac Facial Sponge with Green Tea Review

In recent years I have absolutely moved on from using wash cloths on my face, graduating to facial sponges. With the all too popular Konjac sponges on the market, my face has found a new love. This time it's the Japanese Konjac Facial Sponge with Green Tea and you know I am all about sharing!
Disclosure: I received this product in exchange for an honest review. I did not receive financial compensation for this post and this review is 100% my own honest opinion, however, this post may contain affiliate links. See full disclosure here.
Konjac sponges are my new faves when it comes to cleaning my skin, because the added ingredients help to heal, moisturize and hydrate my skin, and I can use them with or without a cleanser.  The Japanese Konjac Facial Sponge with Green Tea  is great for oily and combination skin, I happen to have the latter, and being an all natural product is a big plus.

Japanese Konjac Facial Sponge with Green Tea Review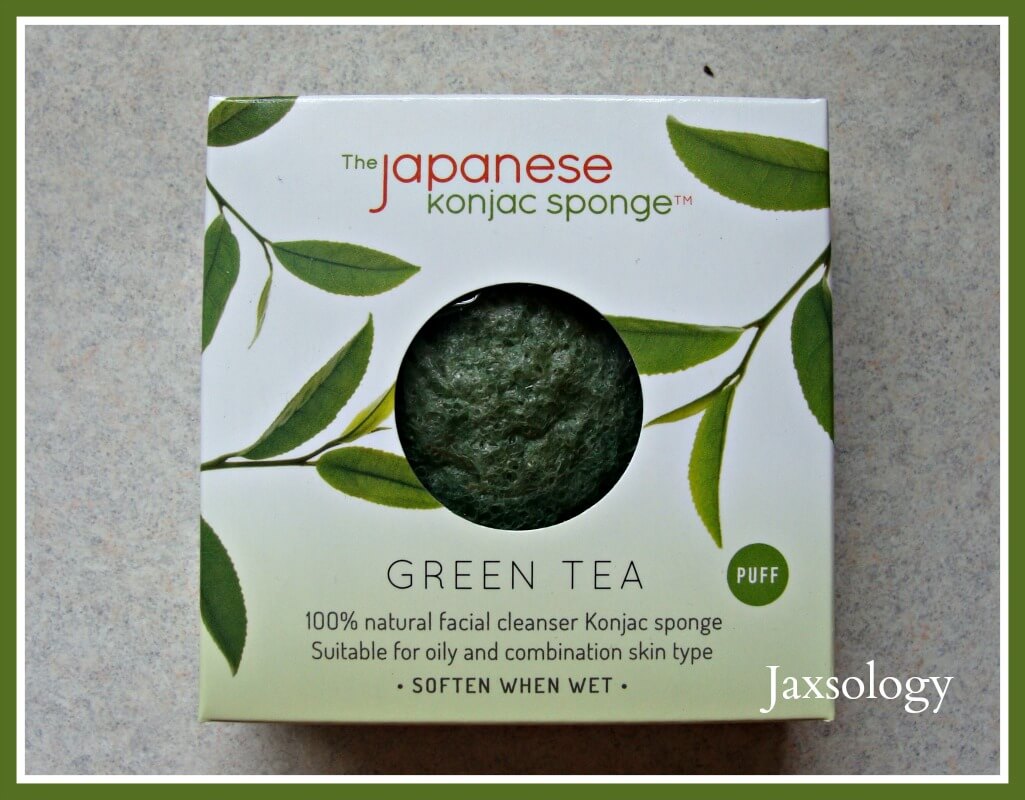 In the Box: The Japanese Konjac Facial Sponge with Green Tea  comes in a really pretty decorated box with a Japanese theme with bamboo leaves. It's just really cute and fits the brand to perfection. There is also a handy little instruction card on the inside which will get you started right away. Ok, enough about the box. . .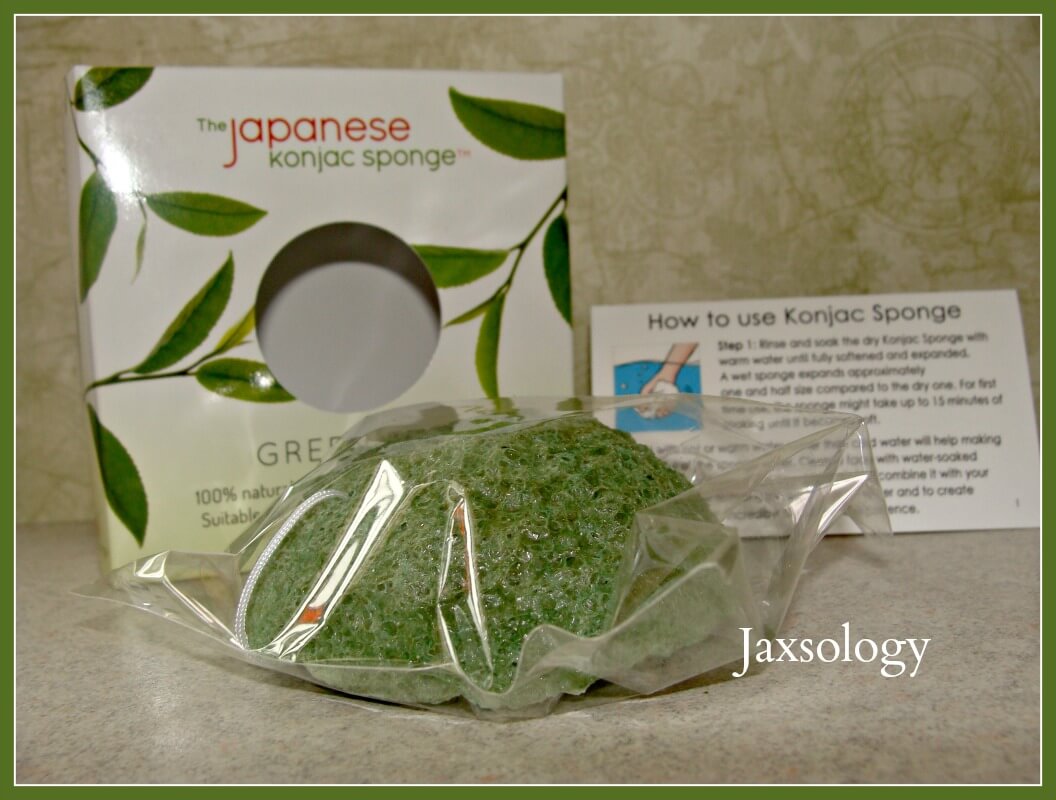 Out of the Box: The sponge comes wrapped in plastic with an attached string which makes it convenient to hang up for drying. Be careful not to cut the attached string when removing the plastic – if you follow my blog, you know I've done this before in my rush to get it open.
How does it Work? As with all Konjac sponges, you must soak it to get it soft and ready for use. Soaking takes about 5-10 minutes and I'm ready to cleanse.
If I'm using cleanser, I apply it directly to the sponge and start to work it in a light circular motion on my face. I really like using a foaming cleanser with Konjac sponges, but you can use any cleanser you like. I would not recommend oil cleansers, as it could damage the natural fibers of the sponge.
After use, simply rinse and press the excess water and cleanser from the sponge. Be careful not to twist or wring the sponge and this can also damage the fibers and give your sponge a much shorter life. 
Jaxs-tip:: After a week of use, I place my wet Konjac sponge in a ramekin (that I use specifically for this purpose) with water and microwave it for 2 minutes.  This removes any bacteria from the sponge and does not damage the fibers. 
Top 3 Reasons to use a Japanese Konjac Facial Sponge with Green Tea: I'm a huge fan of the Konjac sponges.
Made with natural ingredients which work to keep my skin looking and feeling great

Contains no harsh chemicals and are 100% natural and handmade

Very easy to use and offers great benefits.
It's a no brainer! My skin stays looking great using the Japanese Konjac Facial Sponge with Green Tea. I also use the Konjac Sponge with Bamboo Charcoal (check out my review here), and I love it too! they also offer Cherry Blossom, Wild Mint, Citrus Fruit, and the popular Natural White, and I can't wait to try some of these.
If you are interested in purchasing a Japanese Konjac Facial Sponge for yourself, I will leave my affiliate link below for your shopping convenience.
Learn more about Elova Essence products by visiting www.japanesekonjacsponge.com. LIKE them on Facebook, FOLLOW on Twitter, or engage with them on Pinterest, Instagram, Google+ and YouTube.
#konjacsponge #Jaxsology
Are you a Konjac sponge user? What are some of your favorite added ingredients in a Konjac Sponge?  Please share in the comments section below – you know I want to hear your thoughts!
I received one or more of the products mentioned above for free using
Tomoson.com.
Regardless, I only recommend products or services I use personally and believe will be good for my readers.
Powered by

Sidelines